PW50 Oil Injector Block Off Plug Combo Kit
$59.99 – $79.99
This PW Oil Injector Block Off Plug Combo Kit includes a Oil injector Block off Plug (for the PW50 or PW80), Maxima Formula K2 2-Cycle Racing oil, and a FREE Spark Plug!
The Deluxe package includes the PW Block off Plug, 2 quarts of oil and, and 2 FREE Spark Plugs!
See Below For A Better Description of the individual products
---
Description
PW50 Oil Injector Block Off Plug
PW50 Oil Injector Block Off Plug Combo Kit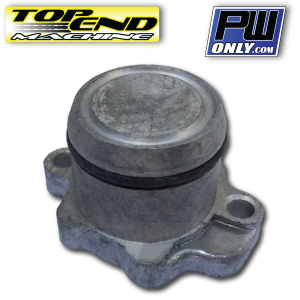 This PW50 Oil Injector Block Off Plug is one of the best performance upgrades for the PW50 is installing our oil block off plug. Pre-mixing your oil and gasoline will eliminate the standard oil pump assembly. The oil pump is not accurate most of the time, sending either too much or not enough oil into the engine causing big performance loss. Even worse, an oil-deprived engine will result in premature wear or in many cases extreme engine failure. Eliminate the risk and gain performance – install our Oil Block Off Plate.
Maxima Formula K2 2-Cycle Racing oil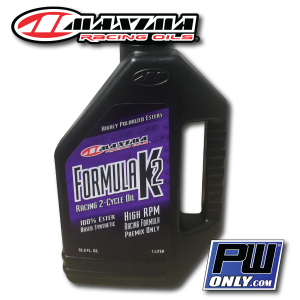 – High RPM racing formula premix oil – Highly polarized esters – Reduces power valve maintenance – Prevents rust and corrosion – Eliminates ring sticking We recommend mixing at a 40:1 ratio for PW50's or PW80's. This is a premix only oil, it is for use on bikes with a oil injector block off plug. K2 is a high performance 100% synthetic lubricant made with synthetic esters and special high-performance additives for use in 2-cycle racing engines. K2 reduces power valve maintenance, prevents rust and corrosion and eliminates ring sticking. K2 is extremely clean burning and will keep exhaust tracts free of carbon. Premix only/ Agitate well.
You will also need The PW50 Single Throttle Cable when using the Oil Block Off Plug.
---
PWonly private brand parts are carefully selected by our performance experts to meet our strict standards. From cranks and pistons to plastic kits and much more, PWOnly products are a great value in high performance and OEM replacement.
PWonly products offer customers unmatched product selection and low pricing, while our excellent technical support and customer service have made us a recognized leader in 50cc motocross riding and racing.
PWOnly.net features an in-site ordering catalog, managed with our safe and secure online shopping cart. We process all of our payments through payPal to ensure safety of our customers information
Please don't hesitate to contact us, if you have any questions. We are more than willing to help you determine the right part for your specific situation. Our customer support number is (239) 566-9666
Pick up a PW Oil Injector Block Off Plug Combo Kit today!
Additional information
| | |
| --- | --- |
| Weight | 3 lbs |
| Package | Regular, Deluxe |