PW50 Single Shock Rear Suspension Kit – Forks optional
$339.99 – $479.99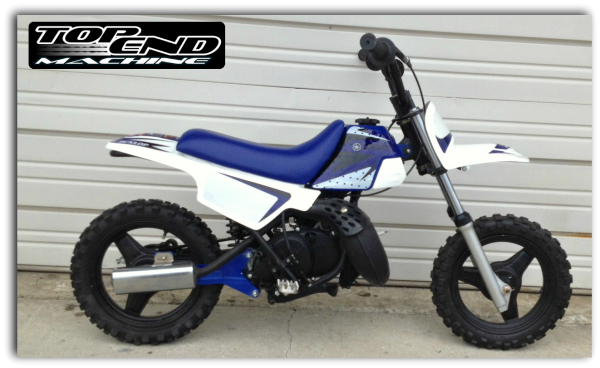 The TOP END MACHINE PW50 Single Shock Rear Suspension is a performance upgrade to your PW50. It creates a new performance dimension by providing a whole new feel in suspension feel just like the characteristic of a full size motocross bike. 
The best quality and performance available for PW50s. CNC aluminum swing arm and shock mounts one inch longer then stock. Nitrogen charged oil dampened fully adjustable piggy back reservoir rear shock designed for PW50 stock frame. Adjustable spring pre-load, adjustable rebound and adjustable compression make this the ideal choice of rear suspension for all types of riders weights and ability.
This Kit will raise your rear end up 1″, so we provide a a front fork triple clamp spacer kit in the $299 package, or you can add a new set of oil dampened leaning axle front forks to really balance out the suspension for an extra $99.
Adjustable PW50 Training Wheel Kit
$89.99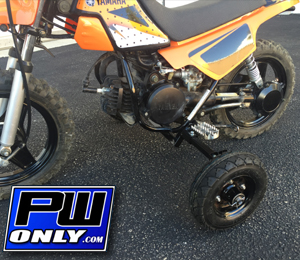 This Made in U.S.A. Adjustable PW50 Training Wheel Kit is specifically designed for the PW50 and offers stability to ensure your child won't fall over; it also can help teach proper balance. The kit is built in the USA from heavy-duty tubular steel construction. As children learn to ride a real dirt bike for the first time, they need to feel safe. Unlike any other kit our training wheel kit is an adjustable wheel ride height, which allows parents to set the wheel height to match the rider's skill level. This allows beginning riders to feel safe or more advanced riders to turn corners sharper with increased speeds.