Shipping Information & Policies
***We ship both within the U.S. and internationally***

U.S. Orders are shipped via UPS or USPS (United States Postal Service) depending on package size. See map below for estimated shipping times by location.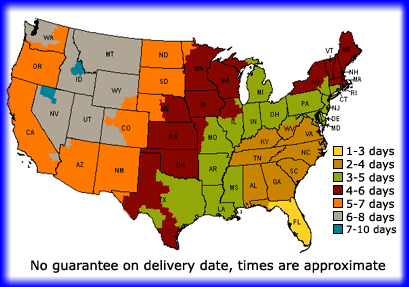 We ship internationally via the U.S. Postal Service to most countries in Europe, the Carribean, South America, Asia and Oceania. See the chart below to find out if we ship to your country.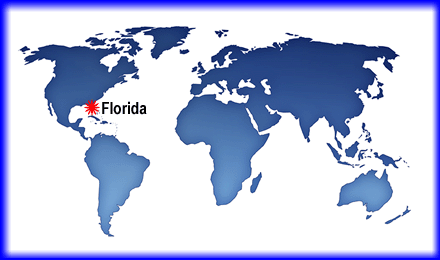 International Shipping Most of the products that we carry are available for international shipping. International shipping costs are calculated by our system but is not uncommon that specific country regulations may require us to contact you to confirm your shipping options. You will be contacted via email between 48 and 72 hours from the date of the order. You will be notified of the final shipping cost before your order is processed. Due to the daily fluctuation in exchange rates, all price quotes will be given in U.S. dollars only. Shipping costs do not include duty, tax, or brokerage fees.
Ordenes Internacionales

La mayoría de los productos que vendemos están disponibles para ser enviados internacionalmente. Los costos de envío internacional son calculados automaticamente por nuestro sistema, pero es común que las regulaciones de algunos países en particular requieran que lo contactemos para confirmar las opciones de envío. Usted será contactado dentro las siguientes 48 a 72 horas a partir del día en que la orden ha sido colocada. De la misma manera, será informado del costo final de envío antes de que su orden sea procesada. Debido a la diaria fluctuación de las tasas de cambio, todos los precios están calculados en dolares de los Estados Unidos. Los costos de envío no incluyen ningún impuesto ni arancel del país al cual es enviado el producto.
Spedizione Internazionali


La maggior parte dei prodotti che portiamo sono disponibili per la spedizione internazionale. I costi di spedizione internazionali sono calcolati dal nostro sistema ma non è insolito che regolamenti di ogni paese specifici può richiedere che noi abbiamo la necessita di contattararlo per confermare le sue opzioni di spedizione. Lei sarà contattato via l'email tra 48 e 72 ore dalla data dell'ordine. Lei sarà notificato del costo di spedizione finale prima che il suo ordine è elaborato. Dovuto alla fluttuazione quotidiana nei tassi del cambio, tutto le citazioni di prezzo saranno date nei dollari americani soltanto. I costi di spedizione non includono il dovere, la tassa, o gli onorari di intermediazione.
Countries that Qualify for International Shipping
Countries that Qualify for International Shipping

AG Antigua
AR Argentina
AW Aruba
AU Australia
AT Austria
BS Bahamas
BB Barbados
BE Belgium
BZ Belize
BM Bermuda
BR Brazil
BG Bulgaria
TC Caicos Islands
CA Canada
KY Cayman Islands
CL Chile
CN China
CO Colombia
CR Costa Rica
HR Croatia
CZ Czech Republic
DK Denmark
DO Dominican Republic
EC Ecuador
FJ Fiji
FI Finland
FR France
GF French Guiana
PF French Polynesia
DE Germany
GI Gibraltar
GR Greece
GD Grenada
GP Guadeloupe
GU Guam
GN Guinea
HK Hong Kong
HU Hungary
IE Ireland
IL Israel
IT Italy
JM Jamaica
JP Japan
KP Korea (Democratic)

MQ Martinique
MX Mexico
FM Micronesia
MC Monaco
NL Netherlands
AN Netherlands Antilles
KN Nevis
NZ New Zealand
NO Norway
PA Panama
PG Papua New Guinea
PE Peru
PH Philippines
PL Poland
PT Portugal
RO Romania
RU Russian Federation
KN Saint Kitts
LC Saint Lucia
PM Saint Pierre
VC Saint Vincent
WS Samoa
SM San Marino
SC Seychelles
SB Solomon Islands
ZA South Africa
ES Spain
SE Sweden
CH Switzerland
TW Taiwan
TH Thailand
VC The Grenadines
TT Trinidad
TR Turkey
TC Turks Islands
AE United Arab Emirates
GB United Kingdom
US United States
UY Uruguay
VE Venezuela
VG Virgin Islands (British)
VI Virgin Islands (US)

For Additional Shipping Information, Please Contact:

By Phone: (239) 566-9666, 9 AM - 5PM Monday-Friday
By E-Mail: [email protected]
For Additional Shipping Information, Please Contact:
By Phone: (239) 566-9666, 9 AM - 5PM Monday-Friday By E-Mail: [email protected]
Policies and Terms
Pricing
· Please consult our Online Staff about the product availability and prices when ordering from this or any other online catalog. Pricing does not include shipping.
· Items marked with asterisk (*) may require prepayment by money order, check or credit card. These are special order items that we do not stock but are willing to order from our vendors at your request. These special order items are paid for in advance, non-returnable and non-refundable.
· We apologize for any discrepancies caused by typographical, clerical or printing errors and reserve the right to correct them. We are not obligated to sell items at mis-marked prices. We apologize and make every effort to avoid these errors.
Product Availability
· We are not obligated to carry any item that has been discontinued by a manufacturer. All items are subject to availability. As the manufacturers' product lines change, our product line changes also.
· At time it is possible that a product can be on backorder through the manufacturer, we encourage our dealers to keep up with their stock, and contact other dealers if need be to get the product to the customer.
Returns
For Returns purchased through online store: they must be returned through mail. Be sure to include a copy of your invoice or packing slip, if available, and write the reason for each returned item. Freight must be paid by the customer. There is NO REFUND on shipping fees. Each item returned for refund there will be a $15.00 restocking charge. There is no restocking charge on an exchange; reshipment fee of $12.00 applies for all exchanged. Items returned for exchange or refund must be returned within 14 days from receipt date in original and unused condition (unless defective).
· United Parcel Service is generally the least expensive shipping method. DO NOT SEND ITEMS BACK TO US C.O.D (CASH ON DELIVERY). Our warehouse will not accept any C.O.D. shipments. All shipping fees are to be paid by customer
· These terms represent the policy of pwonly.com and are current as of August 14, 2015.
· INTERNATIONAL CUSTOMERS: The following statement must be written on your invoice enclosed in the return package and on the Custom's Declaration on the outside of the package: U.S. GOODS BEING RETURNED FOR REPAIR OR EXCHANGE.
Privacy Statement
· PWOnly has created this privacy statement in order to demonstrate our firm commitment to privacy. The following discloses our information gathering and dissemination practices for this website: www.pwonly.com
· When you place an order, we need your name, credit card number, e-mail address, billing address, shipping address and telephone number. We'll e-mail you order confirmation / shipping confirmation. In rare cases, we do contact customers by phone if there's a question about your order. Users may opt-out of receiving future mailings; see the choice/opt-out section below.
· Our site's registration form requires users to give us contact information (like their name and email address). We use customer contact information from the registration form to send the user information about our company. The customer's contact information is also used to contact the visitor when necessary. Users may opt-out of receiving future mailings; see the choice/opt-out section below.
· This site contains links to other sites. www.pwonly.com is not responsible for the privacy practices or content of such Web sites.
· We may use your IP address to help diagnose problems with our server and to administer our Web site. Your IP address also may be used to gather broad demographic information and to recognize customer traffic patterns and site usage.
· Cookies are alphanumeric identifiers that we transfer to your computer's hard drive through your Web browser. They make it possible for us to recognize your browser when you visit. By doing this, we can personalize your return visits and save you time during checkout. In order to enjoy the benefits of being a registered user, your browser must be set to accept cookies.
Choice/Opt-Out
Our site provides users the opportunity to opt-out of receiving communications from us at the point where we request information about the visitor. This site gives users the following options for removing their information from our database to not receive future communications or to no longer receive our service. You can send email to [email protected]
Correct/Update
This site gives users the following options for changing and modifying information previously provided.
You can send e-mail to [email protected]
You can visit https://www.pwonly.com
Contacting PWOnly
If you have any questions about this privacy statement, the practices of this site, or your dealings with this Web site, you can contact [email protected]