PW80 Front Forks
$89.99
Having your suspension in good shape is one of the best advantages to have on a PW80. Whether you're racing, or tackling a rough rock section, a good set of high performing forks and shocks will keep you safe and enjoying the ride. So if you want to get the most out of your riding on the track or trails, having good suspension part from PWonly will give you the performance you need.
Description
PW80 Front Forks
PW80 Front Forks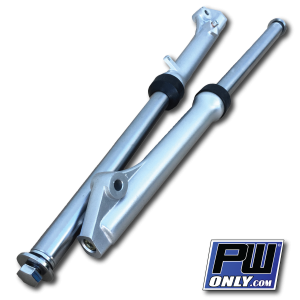 A well-tuned and custom tailored PW80 suspension setup is important for performance abilities and comfort while racing. You'll have more control, increased confidence, and an overall great performance by taking the time to tune up and customize your suspension. Setting up the SAG, including adjusting the compression and rebound dampening, setting the fork tube height, and balancing the bike are key components to boosting the performance of your bike. By modifying your bike, whether you just need heavier or lighter spring rates, PWonly has the parts you need to get the job done right.
---
PWonly private brand parts are carefully selected by our performance experts to meet our strict standards. From cranks and pistons to plastic kits and much more, PWOnly products are a great value in high performance and OEM replacement.
PWonly products offer customers unmatched product selection and low pricing, while our excellent technical support and customer service have made us a recognized leader in 50cc motocross riding and racing.
PWOnly.net features an in-site ordering catalog, managed with our safe and secure online shopping cart. We process all of our payments through payPal to ensure safety of our customers information
Please don't hesitate to contact us, if you have any questions. We are more than willing to help you determine the right part for your specific situation. Our customer support number is (239) 566-9666