PW80 Throttle Assemble with Brake Lever and Grips
$39.99
As the brakes and throttle get dry and collect dust and dirt particles over time, they will start feeling rough, and may even bind, requiring more effort to twist the throttle. Not only could this cause performance issues with your PW80, but it could ultimately cause performance issues with you as well. Check out our new PW80 throttle assembly with brake levers and grips!
Description
PW80 Throttle Assemble with Brake Lever and Grips
PW80 Throttle Assemble with Brake Lever and Grips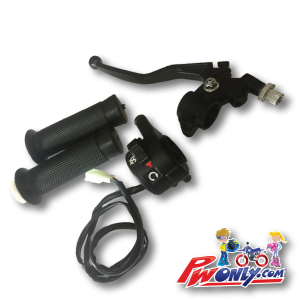 Almost all of the most important components on your PW80 are controlled with lines or cables. PW80 Throttle Assemble with Brake Lever and GripsWhether you need to stop or go, these lines all start at the handlebars. So when brakes start to fade or your throttle is not as smooth as it used to be, shop PWonly for the best deals on PW80 throttle parts, with this assembly your controls will feel like new again.
---
PWonly private brand parts are carefully selected by our performance experts to meet our strict standards. From cranks and pistons to plastic kits and much more, PWOnly products are a great value in high performance and OEM replacement.
PWonly products offer customers unmatched product selection and low pricing, while our excellent technical support and customer service have made us a recognized leader in 50cc motocross riding and racing.
PWOnly.net features an in-site ordering catalog, managed with our safe and secure online shopping cart. We process all of our payments through payPal to ensure safety of our customers information
Please don't hesitate to contact us, if you have any questions. We are more than willing to help you determine the right part for your specific situation. Our customer support number is (239) 566-9666